Alvin W. Thompson is a United States District Judge for the District of Connecticut. He was appointed by President Clinton in October of 1994 and served as Chief Judge from 2009 to 2013. 
Judge Thompson earned his B.A. degree from Princeton University in 1975 and his J.D. degree from Yale Law School in 1978. Upon completing his legal education, he was engaged in private practice with Robinson & Cole in Hartford, where he was elected Managing Partner in 1991 and remained until he was appointed to the Bench. 
Judge Thompson is very active in the American Bar Association. His involvement has included serving as Chair of the Section of Business Law and serving on the Scholarship Committee for the ABA legal Opportunities Scholarship Fund. 
Staff Information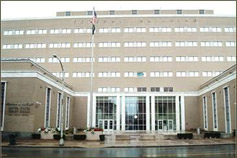 ABRAHAM RIBICOFF FEDERAL BUILDING
United States Courthouse
450 Main Street - Suite 240
Hartford, Connecticut 06103
Location:  South Courtroom